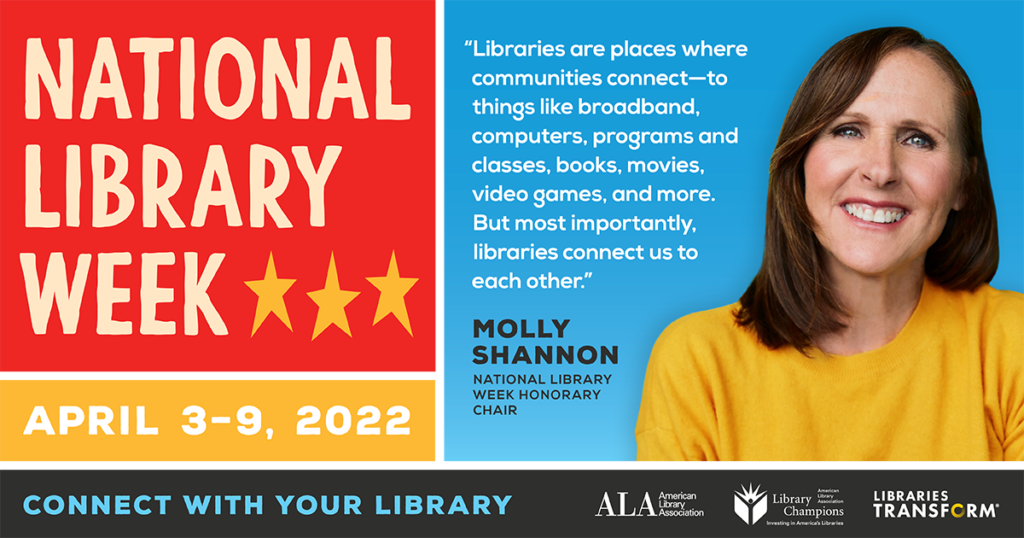 April 3-9, 2022 is National Library Week, a time to highlight the essential role libraries, librarians and library workers play in transforming lives and strengthening communities. The theme for this year's National Library Week is "Connect with Your Library," which promotes the idea that libraries are places to get connected to technology by using broadband, computers and other resources. Libraries also offer opportunities to connect with media, programs, ideas and classes, in addition to books. Most importantly, libraries also connect communities to each other.
Visit us this week, online or in person, and see all the wonderful resources we have available to our community like databases, books, movies, programs, and more.
Also stop by our National Library Week board by the fax machine and leave us a note about why you love your library!
First sponsored in 1958, National Library Week is a national observance sponsored by the American Library Association and libraries of all types across the country each April. Want to learn more about the history of National Library Week? Click here for more information.