It's time to Find Your Voice this summer with the Richton Park Public Library!
From June 1st to July 31st, we challenge you to read every day!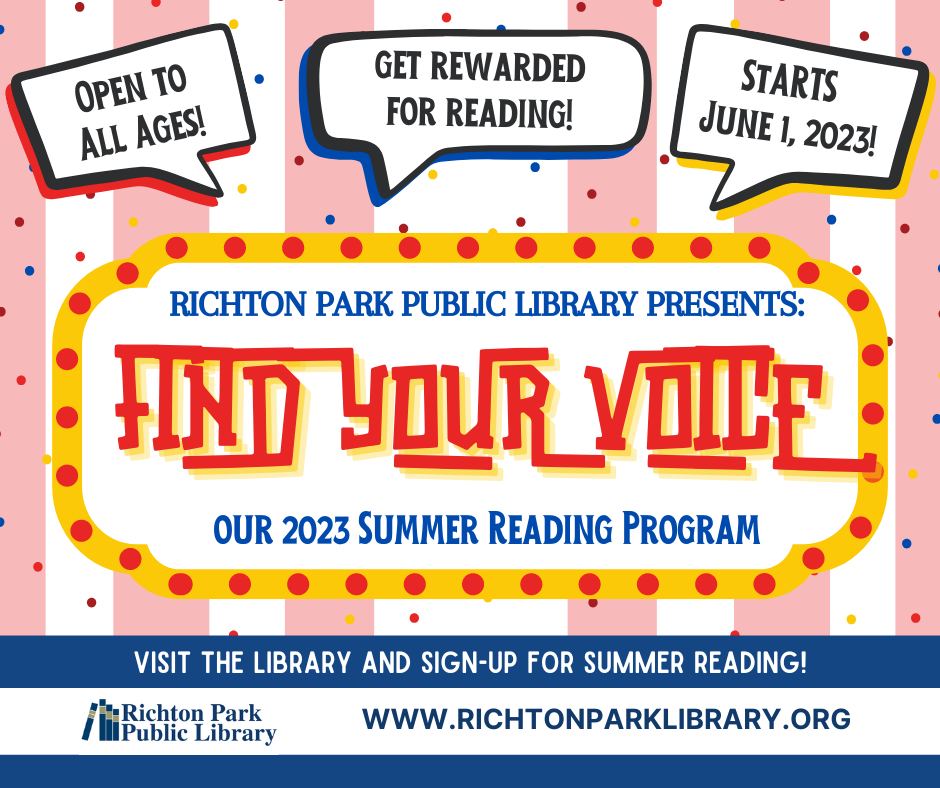 How to Participate:
Sign up for Summer Reading starting June 1st!

You can sign up in person at the Youth or Adult Services Desk

Kids ages Birth to PreK can sign up for our Read to Me Program
Students entering Kindergarten to Grade 5 in the fall can sign up for our Youth Program
Students entering grades 6 to 12 in the fall can sign up for our Teen Program
Adults & Seniors can sign up for our Adult Program

Sign-up bags are available while supplies last.
There is no online registration available this year.

Read everyday!

Initial every day that you read (Parents/Guardians have to initial for participants in our Youth & Read to Me Programs)
Bring your reading log when you come to the library and get rewarded for reading!
Kids & Teens who read 30 days will be invited to an End of Summer Party!
Last day to turn in logs is August 5, 2023.

Earn Tickets!

You get 1 raffle ticket for every day read
Kids & Teens earn bonus scratch-off tickets for every 10 days read & for attending programs
More Summer Fun:
We have a couple more fun programs available to make your summer a blast! Learn about them below:
ATLAS Multi-Library Geocache (June 5 to August 5, 2023)

Open to everyone!
Join us for the 11th Annual ATLAS Multi-Library Geocaching Event! All library patrons are invited to use clues and geographic coordinates to find hidden "geocaches" at numerous participating area libraries.
For each listed geocache you discover, you earn a chance to win a $25 Gift Card. To be eligible for the prize drawing, your library card from a participating library must be in good standing.
Find all the official clues at https://multilibrarygeocache.weebly.com/ starting Monday, June 5th or pick them up at your local participating library.
The competition ends Saturday, August 7th, so let the adventure begin!

Balloon Animal Rescue (June 1 to July 31, 2023)

Open to Youth
We're hiding a couple balloon animals every day in Youth Services! Be the first to find one and get an extra raffle ticket (and you get to keep your balloon animal)!

Mysterious Tome of Knowledge (June 1 to July 31, 2023)

Open to Youth & Teens
We seem to have misplaced our Mysterious Tome of Knowledge. If you find it and bring it to us you can get a small prize. It disappears somewhere new every day.

Early Registration Incentives (June 1 to June 3, 2023)

If you sign up for Summer Reading between June 1 and June 3, you can be entered into a giveaway!

One lucky Adult will win two tickets to see "The Who's Tommy: The Musical" showing at The Goodman Theatre between June 13 and June 23. (Thank you to The Goodman Theatre for your donation!)
One lucky Kid/Teen will win a Shedd Aquarium Prize Pack. (Thank you to the Shedd Aquarium for your donation!)
For more information about any of our Summer Reading Activities, please contact us (chat, phone, or email!)
Thank You to our Generous Sponsors!
Aurelio's Pizza of Richton Park, Chicago Dogs, Chicago Red Stars, Chicago Union, Chipotle, DuPage Children's Museum, Freddy's Custard, Friends of the Richton Park Public Library, Goodman Theater, Kids Bowl Free, Nothing Bundt Cakes of Mokena, Oberweis of Orland Park, Raising Cane's, Shawn Michelle's Homemade Ice Cream, Shedd Aquarium, Urban Air of Mokena, Windy City Thunderbolts, & Zarlengo's