Current Challenges:
Reader Achiever 2021-22
October 1, 2021 – September 30, 2022
We challenge you to read everyday for one year!
The Adult Services Department challenges you to read from a book everyday for a year! Earn badges for reading 90 days, 180 days, 260 days, and 350 days. Challenge yourself to read a few pages every day and earn your place in the end-of-the-year raffle. (PS – Audiobooks count!)
Each badge will earn you a place in our drawing for a limited edition Reader Achiever 30-oz tumbler. If you read 20 days within a month, you will also earn a small prize that will be mailed to you!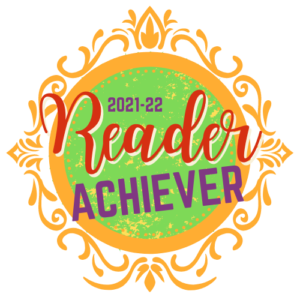 Past Challenges
Summer Reading: Read Beyond the Beaten Path (June 1 2022 – July 31 2022) All Ages
Winter Reading (February 2022) All Ages
Reader Achiever 2020-21 (October 15 2020 – October 15 2021) Adults & Seniors
Summer Reading: Reading Colors Your World (June 1 2021 – July 31 2021) All Ages
Summer Reading: Dig Deeper: Read, Investigate, Discover (June 15 2020 – August 15 2021) All Ages
Winter Reading (February 2020) All Ages
Summer Reading: A Universe of Stories (June 1 2019 – July 31 2019) All Ages
Summer Reading: Libraries Rock (June 1 2018 – July 31 2018) All Ages
Summer Reading: Build A Better World (June 1 2017 – July 31 2017) All Ages